Frequently Asked Questions
SIM Cards and Telecommunication
About Travel and Flights
About your Safety
SIM Cards and Telecommunication
SIM cards can be purchased at the Vodacom store located inside the airport, the SIM can be activated within 24hours or can be pre-purchased online. The below link is a guide on how to go about purchasing the SIM card and the various package options available. Delegates only need to provide their passport for RICA Purposes. The SIM card expires within 30 days of purchase.
Go to:  https://b4i.travel/za/
International direct dialling, internet, and e-mail facilities are easily accessible in Durban. Most of the mobile telephone systems used around the globe operate in Durban.
Examples of flight fares to Johannesburg
SOUTH AFRICAN AIRWAYS
EMIRATES
From Geneva CHF 1059.00
From Frankfurt EUR 882.00
From London GBP 1097.00
From Beijing CNY 11'576.00
From Tokyo JPY 228'400.00

AIR FRANCE
KLM

LUFTHANSA

BRITISH AIRWAYS
DELTA AIR LINES
CATHAY PACIFIC
TURKISH AIRLINES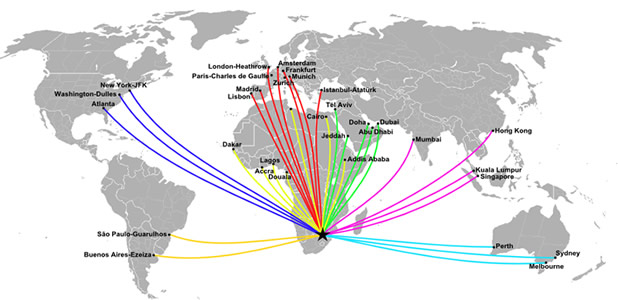 As in every city in the world, there are areas that may be considered especially risky however they are usually located in the periphery and are far away from tourist areas, and not easily accessible. For more detailed information, please check your home countries travel advisory.
Safary